Guy Martin: Isle of Man police probe TV star's 180mph claim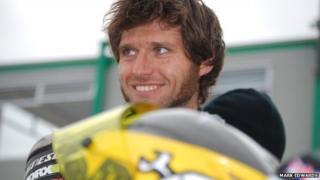 Claims by TT star Guy Martin that he reached speeds of 180mph on open roads whilst reviewing an Aston Martin supercar are being probed by police.
In his review of the 569bhp Aston Vanquish for the Sunday Times driving magazine he said he took sections of the Isle of Man's TT course "flat out".
Manx police said they were "making some inquiries".
Martin, 33, said he completed his lap of the 37.7 mile (60 km) TT course in the £203,000 supercar in 22 minutes.
The television presenter, from Grimsby in North East Lincolnshire, had his review published on 7 April.
---
Aston Martin Vanquish Carbon Edition
Performance: 0-62mph in 3.8sec
---
In it Martin, a favourite to take over from Jeremy Clarkson as a host on Top Gear, said he saw speeds of 180mph down Sulby straight, which has a 40mph speed limit.
He also wrote that when he passed Union Mills, on to a section with no speed limit, he thought "right, let's have it" and that he later took a corner called Ballacrye, near the village of Ballaugh, with the "accelerator flat to the floor".
He completed his lap of the course at about 06:00 BST.
The mechanic, who has never won a TT but finished on the podium more than 20 times, can complete a lap of the TT course in about 17-and-a-half minutes during a Superbike race.
The TT sees competitors reach speeds in excess of 200mph around closed roads each June.