Isle of Man by-elections: Seven nominations received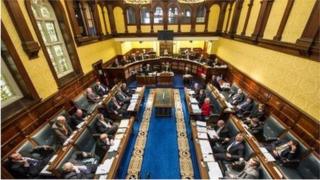 Seven nominations have been received for two by-elections in the Isle of Man following the elevation of two politicians to the Legislative Council.
The House of Keys seats in Douglas North and Douglas South will be contested on 21 May.
Bill Henderson and David Cretney, who represented the two constituencies in the island's capital, were elected to the Legislative Council last month.
The Council is the upper branch of Tynwald, the Manx parliament.
Meanwhile a second round of voting will take place on 6 May for the two remaining seats on the Legislative Council.
The three nominees are David Anderson and Tim Crookall - both MHKs - and current MLC Phil Braidwood.
If either Mr Anderson or Mr Crookall are elected then further by-elections will follow.
---
Douglas South
Kurt Buchholz, Businessman
Amy Burns, Homemaker
Keith Fitton, Registered Nurse / Charity Manager
William Malarkey, Electrical Engineer / Company Director
Douglas North
David Ashford, Businessman
Maire Booth, Shipping Officer
Ralph Peake, Businessman
---