Castletown murder: Ian Anderson jailed for killing wife's lover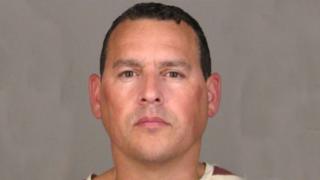 A man who murdered his wife's lover during a fight on the Isle of Man has been jailed for life.
Ian Anderson, 46 and from Castletown, faces at least 15 years for killing Neil Roberts, 60, in December 2013.
Deemster Alistair Montgomerie said he hoped the sentence would offer Mr Roberts' family "some comfort".
He said: "You have conducted yourselves with dignity throughout and words cannot express how difficult it must have been for you."
During the five-week trial at Douglas Courthouse, the jury heard how Mr Roberts had, for some months, been having an affair with Anderson's wife, Alison.
Late on 30 November 2013, a fight involving all three broke out at the Andersons' home in Castletown.
Broken face
The prosecution said that during the fight, Mr Roberts sustained a "catalogue of catastrophic injuries".
A medical report revealed that almost every bone in Mr Robert's face had been broken, as had most of his ribs.
Mr Montgomerie told Anderson: "You repeatedly punched, kicked and stamped on your victim until he was dead.
"Many of these injuries were inflicted while Mr Roberts was lying on his back.
"You have not, in my view, expressed any genuine remorse over your actions, there is no doubt that you intended to kill Mr Roberts and it is clear that you significantly delayed alerting the emergency services."
Anderson claimed he was acting in self-defence, adding that he could not remember much of what had happened.
He was diagnosed with a borderline personality disorder after the incident, the court heard, something which could have impaired his ability to act reasonably on the night of the brawl.
But Mr Montgomerie said there was no evidence to suggest Anderson accepted his condition, something which would be an essential first step towards any long-term recovery.
In a statement read out in court on 24 April, Mr Robert's daughter, Lorraine, said Anderson had not only killed her father, but that he had also "wrecked" her life and that of her family.
"I cannot put into words the devastation I felt at the loss of my father. From the moment I found out he was dead, my life ceased.
"I have not seen one shred of remorse for what he [Anderson] has done to my dad and my family".