Isle of Man exhibition tells Herring Girl story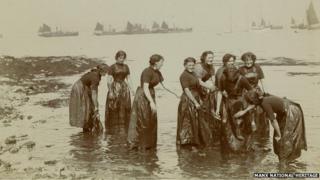 A new exhibition in the Isle of Man is telling the story of a group of women whose highly developed skills became key to Britain's fishing industry.
History in Heels, a project by Manx National Heritage (MNH), depicts the lives of the travelling Herring Girls.
The women migrated around different ports in the British Isles, following fleets of fishing vessels.
MNH said until 1950, gangs of these "highly skilled" women worked in the Manx ports of Peel and Port St Mary.
Curator Jude Dicken said a team of three could gut and pack in the region of 1,000 herring every hour.
'Bandaged fingers'
"It was extremely hard work and the women had to bandage their fingers to protect them from the salt," she added.
"The fish were carried in baskets from the boats to the herring houses by girls between the ages of nine and 13, then the fish were then gutted, salted and barrelled."
More information about the Herring Girls is available at the House of Manannan in Peel.
History in Heels marks the centenary of the National Federation of Women's Institutes and celebrates the 65th anniversary of the formation of the Isle of Man Women's Institute.