Isle of Man Legislative Council ballots unsuccessful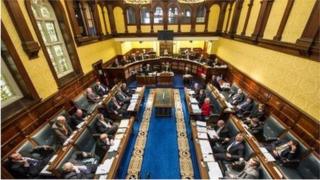 Two seats on the Isle of Man's Legislative Council remain vacant after none of the nominees won enough votes.
David Anderson and Tim Crookall - both Members of the House of Keys - and current Council member Phil Braidwood all failed to gain the backing of at least 13 MHKs.
The Council is the upper branch of the Manx Parliament.
The Speaker of the House, Steve Rodan, adjourned the sitting and called for fresh nominations by 5 June.
Glenfaba MHK David Anderson came the closest to being elected, securing 11 votes.
The Council includes eight elected members, the President of Tynwald, the Bishop of Sodor and Man, and the Attorney General.