Two-tonne whale dummy used in marine rescue training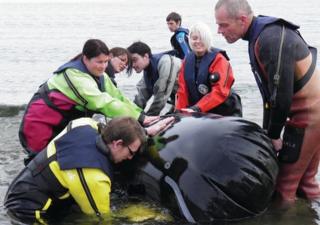 A two-tonne dummy whale is being used on the Isle of Man to train volunteers to rescue stranded sea mammals.
The life-sized pilot whale model is filled with water to give trainees the chance to feel what it is like to re-float a heavy animal.
The one-day course is run by a charity called the British Divers Marine Life Rescue organisation (BDMLR).
The organisation said part of the training involved giving first aid to whales or dolphins.
Course leader Stephen Marsh said: "The Isle of Man has some incredible marine wildlife so it's great that we're able to help local people contribute to its conservation in a practical way".
The BDMLR is an organisation dedicated to the rescue and well-being of all marine animals in distress around the UK.
The organisation, which has trained in the region of 3,000 volunteers, said the course, which takes place on Ramsey beach on Sunday, is fully booked.
Funding for the initiative has been provided by the Manx government and private sponsorship.