'Highest sea temperatures' blamed for Manx fishery closure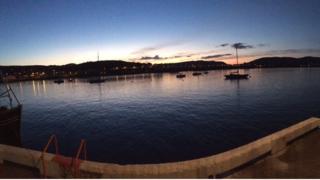 The "highest sea temperatures ever recorded" off the Isle of Man were to blame for 2014's king scallop fishery closures, according to scientists.
The Manx fishing season was halted in November after tests showed abnormally high levels of domoic acid in samples.
Excessive levels of the naturally-occurring substance, stored in the scallop's digestive system, can cause amnesic shellfish poisoning.
Sea temperatures have been measured daily since 1904 in Port Erin Bay.
A spokesman said the high temperatures caused "a prolonged bloom of one species of phytoplankton during early summer off the west coast of the Isle of Man".
"This species produce chemicals that can accumulate in shellfish, such as queen and king scallops - at high levels, these chemicals can cause health problems in humans."
Ingestion of the chemicals can cause nausea, dizziness and, in rare cases, death.
The Manx king scallop season, which traditionally runs for seven months of the year, was halted on the west coast of the island in November, with the all-clear given a few weeks later.
Marine scientist Dr Kev Kennington said temperatures during May, June, July, October, November and December exceeded previous records and peaked on 6 August, when 16.7°C was recorded.
Environment Minister, Richard Ronan said the figures were "concerning" and could have a "profound effect" on the Manx fishing industry.