Heysham port dredging affects Isle of Man ferry times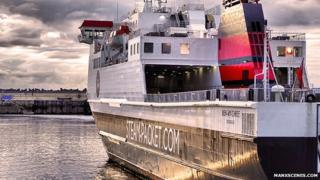 Harbour dredging in the port of Heysham in Lancashire is expected to cause disruption to Isle of Man ferry timings, according to operators.
The Steam Packet company said silting problems have forced the company to reschedule several sailings this week.
Work is ongoing to restore access to berths after a build-up of silt and sand during the winter storms.
Ferry Chief Mark Woodward said he expects the dredging to be completed in advance of the TT festival in June.
He added that the company was liaising with Heysham port to ensure timetable changes are "minimal and pre-planned".