Russian artist's Tynwald painting shortlisted for award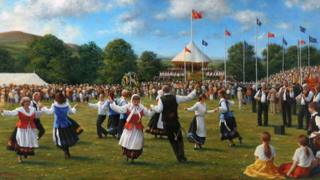 A painting by a Russian artist inspired by the "joy" of Tynwald Day has been shortlisted in a prestigious art competition for realist painters.
Svetlana Cameron said her painting, depicting traditional Manx dancers, "represents the culture and identity of the island".
Ms Cameron, who has a studio in the Isle of Man, has two works shortlisted in the United States competition which attracted 2,500 entries.
"I am absolutely delighted," she said.
She said she was inspired after attending the open-air sitting of the world's oldest parliament in 2013.
Her Tynwald Day painting "Laa Tinvaal" and her portrait drawing called "Katya" were both created in her Braddan studio.
Many of the shortlisted works will be exhibited in a travelling exhibition that will start at the MEAM Museum in Barcelona in November.
Ms Cameron said: "The recognition fuels my enthusiasm and gives me confidence to carry on working in this very challenging genre."
She began her career as an interpreter and translator in Moscow.