Seven candidates stand in Isle of Man by-elections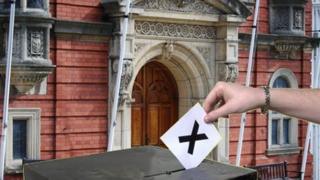 Seven candidates will contest two by-election seats in Douglas on Thursday.
The House of Keys constituencies of Douglas North and Douglas South became vacant following elections to the Legislative Council earlier this year.
Previous MHKs David Cretney and Bill Henderson were elected to Tynwald's upper chamber on 17 March.
Four candidates will stand for election in Douglas South, while three others have put themselves forward in Douglas North.
Polling stations for both constituencies will be open between 08:00 and 20:00 BST.
Douglas South candidates (polling centres at St Matthew's Church Hall, Pulrose Methodist Church, Anagh Coar Primary School and Scoill Vallajeelt).
Kurt Buchholz (businessman);Amy Burns (homemaker); Keith Fitton (registered nurse and charity manager); William Malarkey (electrical engineer and company director).
Douglas North candidates (polling centres at Willaston Methodist Church, Cronk y Berry School and the Project 21 Centre):
David Ashford (businessman); Maire Booth (shipping officer); Ralph Peake (businessman).