Isle of Man queen scallop fishing restrictions continue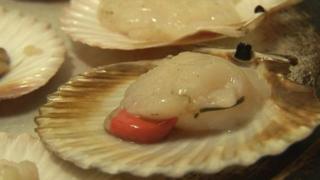 Government-imposed fishing restrictions are set to continue this year after scientists recorded a sharp decline in Isle of Man queen scallop stocks.
The study, conducted by Bangor University in 2013, showed a 15,000 tonne fall in the volume of shellfish in Manx waters over three years.
Since then a total catch limit of 1,000 tonnes has been imposed.
A Manx fisheries spokesman said this limit will continue into the 2015 season, due to begin on 1 July.
He added: "'We fully appreciate the effect a second restricted catch will have on fishermen, producers and the supply chain and have faced a difficult decision.
"We have to balance the effect on the economy that restricting scallops has with the very real threat that if we don't allow stock to recover, they could be so depleted that there is no long-term future for this industry."
The restrictions only apply in Manx territorial waters which stretch about 12 miles from the coast.
The queen scallop (aequipecten opercularis) is a bivalve mollusc which can grow up to 3in (9cm) in diameter and is found at depths of 328ft (100m).
It is one of the Isle of Man's most popular exports, with local producers supplying to a number of top restaurants in the UK.