Dredging of Isle of Man marina concludes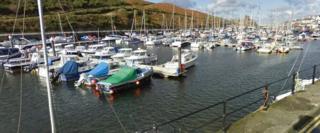 A seven-week project to remove 18,000 tonnes of silt from Peel Marina will come to an end this weekend.
The government said the final phase of dredging work to restore adequate water depth will take place on Saturday.
The project, which cost several hundred thousand pounds, was undertaken to address a build-up of silt which was preventing berths being used.
Infrastructure Minister Phil Gawne said smaller-scale dredging will take place more frequently in the future.
He added: "This will help us keep on top of the sediment that washes down the River Neb each year.
"Small amounts of silt can be deposited at sea and this is what we shall be doing from next year."
The project to dredge the multi-million pound marina has been "urgently needed since 2011," continued Mr Gawne.