Isle of Man bill proposes police job privatisation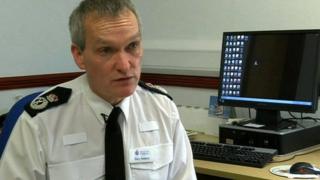 Some police support roles could be privatised under proposals being considered by the Manx government.
The Police (Amendment) Bill 2015 suggests contracting out some duties currently performed by constables.
Examples include custody suite work, "police investigation functions" and "road safety duties and miscellaneous support".
Home Affairs Minister, Juan Watterson said the bill came at a time when the department was looking to cut costs.
"In the current financial climate it is clear that we must continue to adapt and target our resources in the most effective manner," he said.
Bernard Moffatt of the Celtic League said the plans would "diminish, not strengthen the scope of policing on the island."
He urged residents to take part in a six-week public consultation that runs until 15 July.
He added: "Whilst it may well be appropriate to sub-contract out other areas of government functions, rather than diminish the present scope of policing, the existing structure should be properly financed and strengthened".
The government said the move would increase public confidence if the outsourced functions were "performed in a more cost-effective way by people other than serving officers".
Twenty-six posts within the Isle of Man constabulary were cut last year.