Isle of Man to Liverpool ferry: Further delays to Manannan repairs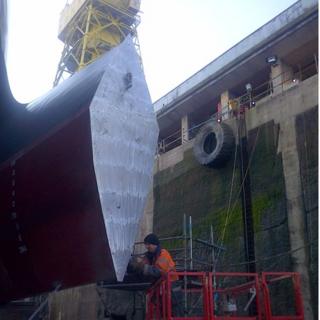 Delays in repairing a ferry which recently hit Douglas pier have forced the cancellation of more services between the Isle of Man and Liverpool.
A Steam Packet Company spokesman said the damaged catamaran Manannan would remain out of action until 3 April.
The vessel, which crashed into Victoria Pier on 23 March, is in dry dock at the Cammell Laird shipyard in Birkenhead.
Chief executive Mark Woodward said: "I share the sense of frustration that I know our passengers will feel."
Manannan had been due to go into the dry dock on Monday but a lack of space meant it had to wait until Tuesday.
"Had we been able to get into dry dock as promised," said Mr Woodward, "Our work would have been completed in time and we would have been able to meet our original deadline.
"I would like to sincerely apologise once again for the inconvenience to passengers."
All sailings between Douglas and Liverpool have been cancelled until 3 April - services between the island and Heysham in Lancashire are operating as normal.
Passengers due to travel to Liverpool are advised to contact the company to arrange a transfer.