Matt Sewell's seabird drawings feature in new Manx stamp issue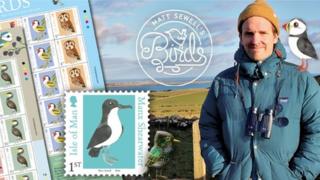 The work of acclaimed bird artist Matt Sewell has been unveiled in a new stamp issue by Isle of Man Post.
The illustrator and ornithologist from Shrewsbury, Shropshire, recently spent time on the Isle of Man to sketch Manx sea birds in the south of the island.
He said: "Stamps are iconic - it's amazing to see my illustrations featured in this way."
Mr Sewell's illustrations include a cormorant, pheasant and Manx shearwater.
He said: "I've been obsessed with birds for as long as I can remember and an invitation to see what Manx shores had to offer was too good to miss."
A Post Office spokeswoman said the stamps have been recreated from Mr Sewell's original water colours and celebrate the "diverse range of birdlife" in the British Isles.