Royal Regiment baton visits IoM to mark 300th anniversary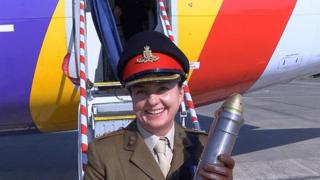 A baton celebrating the Royal Regiment of Artillery's 300th anniversary has arrived on the Isle of Man.
The regiment was founded on 26 May 1716 by grant of the Royal Warrant of King George I.
To celebrate the specially designed Captain General's baton is being carried around the world.
It was brought to the island by Lt Col Lindsey Forbes RA, who is the only lady commanding an RA regiment anywhere in the world.
Lt Col Forbes, of the 103 Regiment, said she was "very proud to bring the baton on to Manx soil."
'Proud tradtitions'
"It's important to demonstrate our commitment to the Isle of Man and honour the strong, long and proud traditions on Manx men serving with distinction in the Royal Artillery over the years."
The British Army established a reserve unit in the Isle of Man last year for the first time since 1968.
Honouree Col of the Isle of Man Army Cadet Force, Charles Wilson said: "It is extremely important because it represents 300 years of the wonderful history of the Royal Regiment of Artillery and our young cadets here continue that tradition today."
During its visit the baton will be carried around the Isle of Man TT course by local reservists.
A spokesman said the baton will be carried through 26 different countries with ties to the regiment.
He said: "The Ubique 300 was designed to link the past with the present, and celebrate some of the people that have shaped us and activities that have helped define us."
More than 1,000 people from 22 regiments will take part in the relay.
During its tour of the island the baton will be taken to all of the island's war memorials, to the top of Snaefell and the Laxey Wheel.
Isle of Man itinerary:
09:20-10:00 - Arrives Ronaldsway
10:00-10:30 - Castletown War Memorial
11:00-11:40 - Tynwald Hill
11:50-12:00- Peel Cathedral/War Memorial.
12:30-13:30 - Ramsey War Memorial
13:30-14:45 - The Bungalow and Snaefell
14:45-15:40- Laxey wheel
15:40-16:25- Onchan War Memorial
16:25-17:05 - Tromode
17:05-17:30- Douglas War Memorial
17:30 - Legislative Buildings