Teenager 'thrilled' at becoming youngest ever Manx commissioner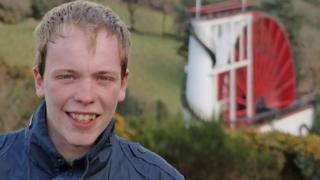 The Isle of Man's youngest ever commissioner says he is looking forward to bringing "young ideas" to his new post.
Eighteen-year-old Liam Miller from Laxey won 85% of the votes in the Garff local authority elections on Thursday.
He will now stand as a commissioner in the newly-formed Garff Parish District (Laxey Ward) for the next four years.
Mr Miller said: "I'm thrilled - there's some young blood in now so let's see what we can do with some young ideas."
He added: "It shows we are now moving forward - there are going to be new faces and new ideas all round."
Manx local authorities are responsible for services such as refuse collection, street cleaning, car parking, public toilets and planning.