WW1: Ramsey war memorial vandalism causes 'deep distress'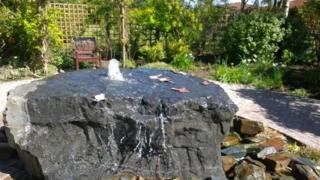 Damage to an Isle of Man war memorial has caused "deep sorrow" to families, Ramsey Commissioners have said.
The Cross of Crosses was laid down in August 2014 to mark the centenary of the outbreak of World War One and to commemorate fallen Manx soldiers.
Vandals have "desecrated" the Royal British Legion's memorial in Mooragh Park which will take over a month to restore, said a spokesman.
Police are appealing for anyone with information to contact headquarters.
The memorial consists of a large green cross into which 1,000 smaller crosses are placed.
'Deep distress'
The spokesman said: "The vandalism resulted in almost all the smaller crosses being snapped off and thrown around.
"Many of those small crosses had been personalised by family and relatives of the fallen and, as such, their loss is all the more acutely felt".
"It has caused deep distress," he added.
Royal British Legion Chairman Colin Douglas said anyone who made a personal dedication on one of the small crosses and wishes to renew that dedication should contact the Ramsey branch.