Isle of Man WW1 internment camp: Tenants sought for Knockaloe farm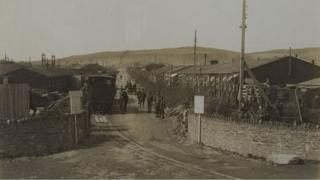 Tenants are being sought by the Manx government to "breathe new life" into the former site of a World War One internment camp and farm.
The government ceased to operate the 337-acre farm at Knockaloe in 2010.
About 23,000 prisoners of war, mainly from Germany, were detained on the site - which also housed 3,000 guards - between 1914 and 1919,
A government spokesman said the site presents a "unique commercial opportunity."
Richard Ronan MHK said the site has an "important place in Manx history" and is "cherished for its natural beauty".
He added: "We hope to let it to an investor who will celebrate the site's past and its significance to the area while unlocking its potential in terms of economic growth and increased visitor numbers."
He said the government was keen to hear proposals that incorporated "aspects such as visitor attractions, education, local food and heritage".
"We are seeking an anchor tenant who, hopefully working with other partners, will create something the Isle of Man can be proud of."
It is hoped the chosen tenants will help boost public access to the farm.
A local charity is also looking to reinstate the original huts as part of a visitor attraction on the site.
The Isle of Man became the second largest settlement of internees in the British Isles during World War One.
The site will continue to house the Mart and the annual Royal Manx Agricultural Show.
The closing date for declarations of interest in the site is 22 July.