Isle of Man ferry operators promise to add new vessel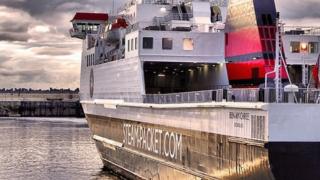 The Manx ferry operator has promised to add a third vessel to its fleet under new proposals to secure a continuing Isle of Man government contract.
Last year the Steam Packet Company was told the ferry service contract which it currently holds could be put out to tender in the next few years.
The current arrangement, called the User Agreement, is due to end in 2026.
Chief executive Mark Woodward said if a further agreement was reached a new vessel would be in operation by 2021.
The passenger ferry, which would cost about £45m, would replace the current Ben-my-Chree, which would then be used as a back-up for both freight and passenger services.
In addition, the company has pledged to spend £20m on a newly refurbished catamaran, which would replace the Manannan by 2023.
The company said it would invest a total of £170m in new vessels, port facilities, fare reductions and special offers.
Mr Woodward said: "Unlike some ferry firms servicing island communities, the Steam Packet Company does not and will not require any government subsidy."
The proposals, which can be viewed online, are due to be debated in the parliament of Tynwald later this year.