Isle of Man TT hospital bill to cost 'six-figures'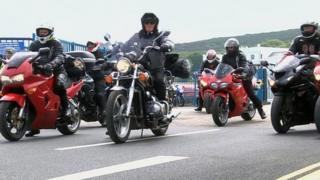 The hospital bill for the TT festival is expected to run into "hundreds of thousands of pounds", the Manx Health Minister Howard Quayle has confirmed.
He said additional staff, including a specialist trauma surgeon, have been recruited to deal with casualties.
Every year about 40,000 visitors from all over the world visit the island during the festival fortnight.
Mr Quayle added: "We are expecting to spend between £200,000 and £300,000 to fund extra services during the period."
Every June Noble's Hospital in Braddan sees a peak in the number of people needing treatment for broken bones.
"Numbers vary from year to year but we have brought over a specialist trauma surgeon for two weeks," continued Mr Quayle.
"We have also recruited four experienced registered nurses for Accident and Emergency. Some years are relatively quiet and others extremely busy."
"Huge fan"
In previous years, the TT is estimated by the government to have contributed £19m to the island's economy, with £3.5m heading to the exchequer.
On any one day the number of tourists visiting the Isle of Man during festival fortnight can be 25,000.
"It is a great thing for the island and I'm a huge fan myself but we have to realise it does come at a cost," continued Mr Quayle.
"Having said that the hospital does an excellent job - I hear nothing but praise."