Battle of the Somme: Vigil for fallen WW1 Manx soldiers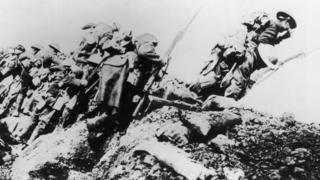 A vigil to remember the 1,261 Manxmen who died fighting in World War One will be held on the anniversary of the start of one of its bloodiest battles.
More than one million casualties were recorded at the Battle of the Somme, which was fought in northern France.
The Archdeacon of Mann, The Venerable Andie Brown, said the vigil will "allow us all to acknowledge the sacrifices".
It will take place at the Royal Chapel of St John and at the National War Memorial from 21:00 BST to 07:30.
The event is being organised by the Royal British Legion.
Mr Brown said the Royal British Legion-organised vigil was a chance to "remember each individual, to pray for peace and to mark the futility of war".
Hon Colonel Charles Wilson said: "The 1261 Manxmen killed represented the highest percentage per head of population of anywhere in UK."
All the names of the Manx fallen will be read throughout the night while, at 07:30 on Friday, whistles will remember the men who went "over the top".
Col Wilson said: "We are calling on communities, organisations and individuals across the island to commemorate the [occasion] - every parish of our island was affected by deaths in the battles of World War One where our men who marched off together died together."
Schoolchildren will also lay wreaths at parish war memorials on Friday to mark the exact centenary of the start of the Battle of the Somme.
Hector Duff BEM, a 96-year-old veteran, said: "We must never forget the men whose names are on our war memorials, or let time claim the glory of their deeds."