Isle of Man union calls for easier asbestos-related cancer payouts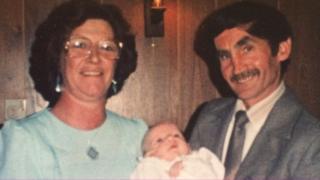 A Manx union wants a change in the law to make it easier for asbestos-related cancer patients to claim compensation.
A spokesman from Unite said it was easier to get a pay-out in the England because of technical legal reasons.
It follows the case of a family from Douglas who fought for three years on behalf of Peter Quirk.
The 74-year-old died in 2014 after contracting mesothelioma due to being exposed to asbestos while working for Heron & Brearley.
Mesothelioma is an aggressive cancer which affects the lungs and abdomen.
Unite's regional officer Eric Holmes said: "Hospital figures show [asbestos] has caused the death of eight people on the island in the past five years.
"We think [compensation] schemes which apply in the UK should also apply in the Isle of Man.
"Mr Quirk is the only Unite union member on the island who has ever successfully claimed."
Kevin Quirk said he had been determined to continue his father's campaign after his death.
"At the time my dad's company was called Okell's Brewery - I take my hat off to Heron & Brearley for admitting liability because when dad came into contact with asbestos, no-one had a clue about how lethal it was.
"Nowadays a worker would have to wear breathing equipment and protective clothing but this it was about 40 or 50 years ago - my dad had to clean out a boiler lined with three different types of the substance.
"It's nice to know that something he started has now had a successful outcome because this is not a pleasant disease at all - it restricts your breathing and it crushes your lungs."
An undisclosed settlement was made out of court.
Heron & Brearley said: "We respect both the insurer's decision and the Quirk family's privacy and therefore have no further comment to make."
Chris Brooks from Manx law firm M&P Legal said there are a number of reasons why it is harder to bring a claim against a former employer in the Isle of Man than in England.
He added: "The process here is longer and it is not as easy to guarantee a successful outcome - if you have a very complicated case then you may not be able to recover anything."