Isle of Man newspaper titles sold in £4.25m deal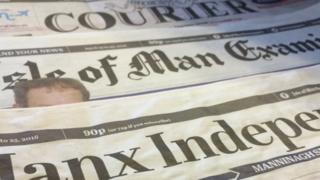 The Isle of Man newspaper titles are to be sold off by Johnston Press Plc in a £4.25m deal, it has been confirmed.
Tindle Newspapers Ltd, which is buying the titles, said it was "delighted".
The deal includes three weeklies - the Isle of Man Examiner, Isle of Man Courier, and Manx Independent - as well as the iomtoday.co.im news website.
Sir Ray Tindle, who established Tindle Newspapers Ltd, said: "We are unable to meet the whole of the staff until completion of the agreement."
He added: "Everyone at Tindle Newspapers will make them all very welcome just as soon as we are able to do so.
"I am convinced that local weekly papers will be with us for a very long time. Everyone wants to read about their own community, and they want to read about it in depth."
Tindle publications include the Enfield Gazette and Advertiser, the Cornish Times, Farnham Herald and the Monmouthshire Beacon.
On its website, Isle of Man newspapers said staff were informed of the deal on Friday.
The deal is expected to be finalised at the end of July.