Tynwald backs two-year plan to save Manx horse-drawn trams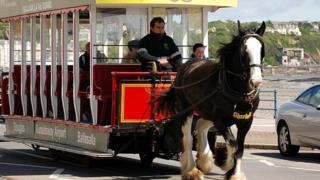 Tynwald has approved a government plan to secure the long-term future of the Isle of Man's iconic horse-drawn trams.
It means the government will operate the Douglas Bay Horse Tramway for the next two years while a business plan is produced to make it more profitable.
The proposals were debated at Wednesday's parliamentary session.
Douglas Borough Council announced in January that it was no longer "financially viable" to run the service after an annual loss of £263,000.
The Douglas Bay Horse Tramway has been ferrying tourists along the town's promenade for more than 140 year.
Infrastructure minister Phil Gawne said it was important to save this "important piece of Manx heritage".
He added: "These trams distinguish the island from other British tourist destinations and the department is confident it can further capitalise on the success of the transport-related travel market."
The plan will mean government costs of about £215,000 for refurbishing the horse tram depot and operating the trams.
The Douglas Bay Horse Tramway, which was built and originally operated by Thomas Lightfoot from Sheffield, runs along Douglas promenade for 1.6 miles (2.6 km) from the Strathallan terminal to the Sea Terminal.
An independent report in 2012 revealed that heritage railways contributed £11 million to the local economy.