Viking Longboat World Championships held in Isle of Man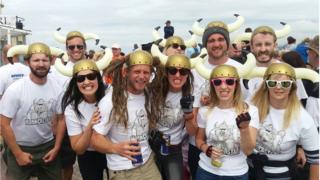 Around 750 people competed in the 53rd Viking Longboat World Championships in the Isle of Man.
The annual event see crews of 10 people row authentic longboats in a 1,312ft (400m) sprint in Peel Bay.
This year the Central Young Farmers' team won the overall title in a time of two minutes 13.04 seconds.
Around 75 crews competed with each member using an 11ft (3.3m) oar. The fastest women's team finished in two minutes 51.67 seconds.
Thousands of spectators attended Saturday's event which organisers said was an "incredible spectacle."
Each team completed at least two practice runs in preparation for the event, which was first held in 1963.