New Eurasian lynx arrive at Isle of Man wildlife park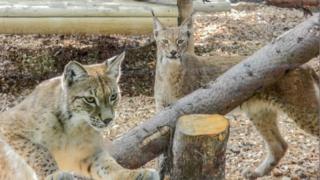 Two northern Eurasian lynx have been introduced to a wildlife park on the Isle of Man.
The sisters, aged one and two, arrived at Curraghs Wildlife Park from Highland Wildlife Park in Scotland last week.
Park manager Kathleen Graham said they were "settling in well" and will be kept away from a 19-year-old female Lynx who has outlived her siblings.
Lynx are the largest cat species at the Isle of Man park.
Mrs Graham said a "breeding male could be introduced at a later date".
Wild northern Eurasian lynx are found in Scandinavia, eastern Europe and western Siberia.
They feed mainly on small prey such as rabbits, marmots and dormice.