Kayaker rescued from rocks off Peel coast in the Isle of Man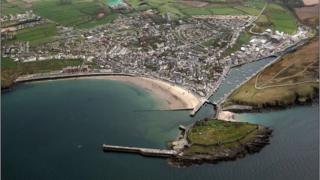 A kayaker has been rescued after becoming stranded on rocks off the Isle of Man coast.
The man was found uninjured at the back of Peel Hill in Peel on Monday by members of the RNLI.
He became stranded after his kayak was swamped by a wave and his friend returned to shore to raise the alarm.
Coxswain Frankie Horne said the pair were well equipped and their actions were the "safest course under the circumstances."