Festival of Motorcycling: Nearly 30,000 travel to festival by ferry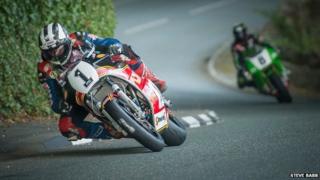 Nearly 30,000 passengers travelled to the Isle of Man by ferry for this year's Festival of Motorcycling, according to the latest figures.
Ferry operator the Steam Packet Company said 29,241 people visited during the fortnight - up 6.3% on 2015.
Figures also showed 4,013 fans brought a motorbike - an increase of 4.5%.
The fortnight-long motorcycling festival, includes the Classic TT and Manx Grand Prix races - both held on the Mountain Course.
Steam Packet Chief Executive Mark Woodward said the figures were "very encouraging".