New £9.5m Douglas primary school opens for 300 pupils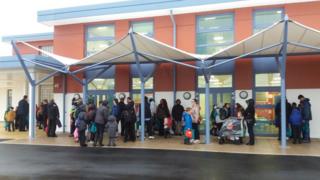 A new £9.5m primary school has opened in the Isle of Man.
Around 300 children will attend the new Henry Bloom Noble Primary School on the site of the island's former hospital in Westmoreland Road in Douglas.
The school gained approval from Tynwald in December 2014 and replaces two 100-year-old schools deemed "unfit for modern learning needs" by government.
Head teacher Ian Walmsley said it is a "very special day for pupils, staff and the wider community."
'Wonderful environment'
"A lot of hard work has gone into this day and it is very exciting. The facilities are fantastic," he said.
The new school has 14 classrooms, a special needs unit, sports hall and an artificial grass sports pitch.
The sports facilities at the new school will be made available to community groups outside school time.
Education minister Tom Crookall said it is a "wonderful teaching and learning environment" which represents a "huge step forward for education on the island".
A spokesman said the two primary schools that closed could not be adapted as they were "outdated, cramped and had a lack of outside space".