Hospital under 'significant pressure' after norovirus and gastroenteritis close wards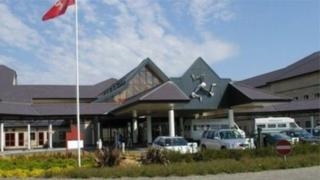 The Isle of Man's main hospital is under "significant pressure" for bed spaces following the closure of two wards after viral outbreaks.
Ward eight at Noble's hospital has shut because of norovirus while ward five is closed as a precaution due to a suspected viral gastroenteritis.
The Department of Health could not say how many have been infected but said both staff and patients had been hit.
Norovirus is one of the most common stomach bugs in the British Isles.
A Department of Health spokeswoman said the shortage of beds could lead to the cancellation of some elective surgery and that patients "will be notified" if their operation is cancelled.
Margaret Knight, lead nurse for infection prevention, said it was "important people don't visit patients if they have been ill with a stomach bug in the previous three days or in close contact with someone who has had sickness or diarrhoea".
A ban on visitors has not been introduced but the hospital is urging the public not to visit unless "absolutely necessary" and not to bring in children aged under 12 to visit.
---
What is winter vomiting disease?
Winter vomiting disease is caused by the small round structured virus (SRSV), also known as the Norwalk-like virus, or Norovirus
Norovirus lives in the gut and is passed from person to person by poor hygiene after using the bathroom
It can also be spread when someone vomits and small aerosols containing the virus enter the air
Worried about Norovirus? Find out more with BBC health
---