Isle of Man seal pup warning as first births expected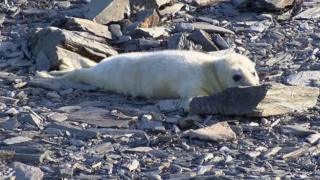 Wildlife experts have issued a seal pup warning ahead of the annual breeding season on the Isle of Man.
Manx Wildlife Trust said the pups may look harmless but can be aggressive and give a nasty bite if approached.
Pups are expected to be born in coming days around the south coast and Calf of Man.
A spokeswoman for the trust said mother seals have been known to abandon their pups if they are "unduly disturbed" by people.
She added: "Please keep your distance, and that includes your dogs."
The seal population off the Isle of Man and Calf of Man will be surveyed for the first time in a decade this year by the trust.
Last year was a bumper year with about 60 pups born.
Factfile: Grey seals
Grey seals are Britain's largest living carnivore.
The British Isles are home to 36% of the world's population of grey seals around its shores.
Around 600 are thought to live around the Manx coast.