Ophelia leads to Isle of Man ferry and flight cancellations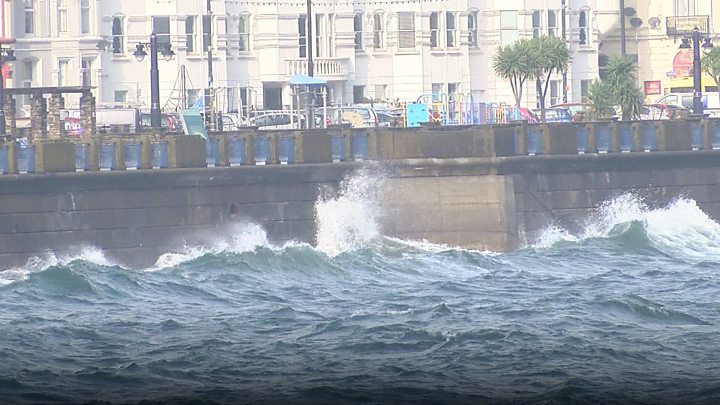 All ferry crossings between the Isle of Man and the United Kingdom have been cancelled as former Hurricane Ophelia arrives in the British Isles.
The Isle of Man Met Office has warned of severe gales of up to 80mph (130km/h) in exposed locations.
There is an amber warning in place, as the storm may cause "disruption and structural damage", a spokesman said.
Sailings to and from Heysham and Liverpool have been cancelled, as have London, Manchester and Belfast flights.
The Manx Met Office spokesman said southerly winds will "strengthen significantly" from mid-afternoon and peak by early evening.
The Isle of Man Airport said all flights on Monday afternoon - including the mail plane - have been cancelled and flights on Tuesday are subject to disruption.
BBC reporter Mark Edwards's narrow escape
"I was driving south, home from our office in Douglas at about 16:00. There were trees down by Fairy Bridge so I went down the Old Castletown Road. There was debris all over the road and the trees were all visibly moving.
"As I was driving I watched one fall in front of me. The driver in front had just avoided a different tree coming down and was turning when he was almost hit for a second time. He was clearly shaken and told me he had a lucky escape not once but twice - I managed to stop and help him.
"I eventually went the Fairy Bridge way and the trees were all precariously moving in the gales. Infrastructure teams were already on the scene to remove two trees that had toppled."
---
A spokesman for Flybe said 47 flights - most of which serving Belfast City, Dublin and the Isle of Man - had been cancelled, adding: "The safety of our passengers and crew is our number one priority."
The Isle of Man government said the A18 Mountain Road would be closed between 18:00 BST on Tuesday and 00:01 on Wednesday.
Some coastal areas - the northern end of Douglas Promenade, Castletown Promenade, Shore Road in Gansey and Fenella Beach in Peel - will be closed from 19:00 BST, ahead of high tide at 22:16.
A government spokesman said motorists have been advised to park away from seafront areas, while pedestrians have been urged stay away from the coast.
He added: "Sandbags will be deployed to Castletown Promenade and the northern end of Douglas Promenade for use by property owners."
The Isle of Man Department of Education and Children said schools on the Isle of Man were open as usual.
But all after-school activities including evening classes, youth clubs, and parents' evenings have been cancelled
All outdoor lettings at the National Sports Centre in Douglas have also been cancelled.
Manx Police said driving conditions will become hazardous and travel disruption is likely.
A force spokesman said there was also a danger from large waves at high tide, with Fenella Beach in Peel, Shore Road, Castletown Prom and North Douglas Prom near Port Jack most at risk.
Ophelia is on its way from the Azores in the Atlantic Ocean.