Treasure hunters face fines after Isle of Man law change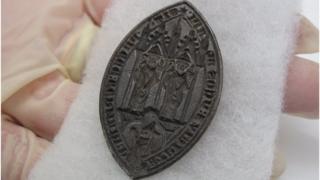 Treasure hunters face fines of up to £5,000 if their finds are not recorded within two weeks of being discovered after a 16th Century law was updated.
The Treasure Act 2017 replaced The 1586 Treasure Trove Act earlier this month after it was brought in when Henry Stanley was the Lord of Man.
Previously the law did not protect the majority of archaeological discoveries.
Manx National Heritage, which must be told about any finds, said the new act "allows for the provision of a reward".
Treasure now includes anything which may have "historical significance", any object with "at least 10% precious metal content" and "any gold or silver object of a prehistoric date".
The 1586 law was designed to allow the Lord of Man to claim wealth hidden by islanders in the fields or "in the thatch of the house".
It did not protect treasures even though they may have been considered of historical or cultural value.