Isle of Man open to exploitation from UK drug gangs, police chief warns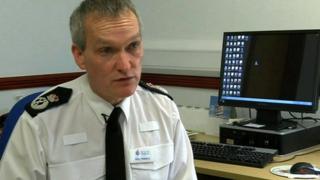 Police budget cuts have left the Isle of Man "open to exploitation" from UK drug gangs, the Manx chief constable has told a parliamentary committee.
Gary Roberts told Tynwald that budget cuts in 2012 left the island with only six officers dedicated to drug crime.
He said it meant Isle of Man Police's ability to deal with class A drugs was "not what it should be".
However, he added that his officers had still "done exceptionally well" and "achieved a high number of seizures".
In his annual report, published in July, Mr Roberts highlighted a rise in drug offences on the island and stated that he did not "believe that we are doing enough".
According to police statistics, staffing levels on the Isle of Man are currently "the lowest" in the British Isles and has cut 16% of staff since 2012.
The Isle of Man has 3.2 officers per 1,000 of the population, compared with the UK average of 3.4.
Warning that the force costs would exceed its budget for the first time in a decade, Mr Roberts told the committee he had to highlight the issue because while he was "aware of the fiscal challenges government faces", he was "compelled to share the concerns I have".
The Public Accounts Committee of Tynwald heard evidence from Chief Constable Roberts on 27 November.