Manx restaurateur calls for single-use plastic straws ban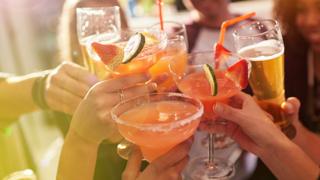 A restaurateur has called for the Isle of Man to ban all single-use plastic straws after pledging to stop using them in his three Douglas venues.
Rock Food Concepts director Philip Taylor said: "It's heart-breaking to see the affects of single-use plastics in our seas."
He said that while they are typically used for only 20 minutes, plastic straws can take 500 years to decompose.
Mr Taylor has pledged to switch to fully biodegradable alternatives.
Most straws are currently made from plastics such as polypropylene and polystyrene, which often end up in landfill sites or in the oceans.
Bill Dale, who founded a beach-cleaning charity on the island 10 year ago, said plastic is an increasing problem on Manx beaches.
In the UK, the JD Wetherspoon chain stopped automatically putting straws in drinks last year, saying eco-friendly paper straws will instead be offered in its 900 pubs.
Primer Minister Theresa May said she wants to eradicate all avoidable plastic waste in the UK by 2042. but many campaigners are calling for "emergency" action now.
Mr Taylor, who runs two restaurants and a cocktail bar, said: "We would like to take this opportunity to encourage all local businesses to switch from single-use plastic straws to greener alternatives.
"Some restaurants have already made these steps but surely more must follow.
"Let us have the ambition to ban all single-use plastic across the Isle of Man. Starting with plastic straws seems like a simple and logical step. Customers must feel empowered to refuse plastic straws too."
He added: "We live in a UNESCO biosphere region and surely must accept some responsibility for looking after our planet."