Hundreds join Isle of Man's women's equality march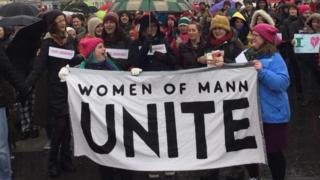 More than 300 people marched in the pouring rain to promote gender equality.
The first Manx Women's March aimed at highlighting issues of inequality facing women round the world took place in Douglas promenade on Sunday.
Organisers said it celebrated "what unites us rather than divides us".
The government is working to bring an Equality Act into operation, which a spokesman said is looking to "deal with discrimination comprehensively."
It will cover discrimination in respect of both employment and the provision of goods and services on grounds including sex, age and religion.
March organiser Christine Cowley said: "It was amazing, so many people coming together and getting involved.
"It was incredible to be a part of and very moving.
"It was great to see so many people stand together in unity with other communities of women around the world."
Clare Bettison MHK, who took part, said it was "brilliant to see such a big turn out despite the weather".
"It's not a single issue, it's about women getting together and talking about all the issues," she said.
Martyn Perkins MHK said he joined to "support all the ladies who want to get their message across in such a positive way".
The event followed the success of Women's Marches held around the world in January 2017.