Legislative Council: 15 to stand for Isle of Man's upper chamber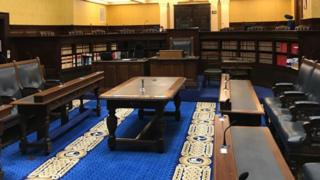 Fifteen candidates will take part in next month's elections for the Isle of Man's Legislative Council.
Four of the vacancies are for five years in the Isle of Man's upper chamber while the fifth is for two.
The council consists of 11 members including the President of Tynwald, the Bishop of Sodor and Man, and the Isle of Man's Attorney General.
The election, featuring nine women and six men, will be held at the House of Keys on 12 March.
The Office of Tynwald said the nominated candidates standing for election are Jane Poole-Wilson, John Skinner, Dawn Joughin, Juan Kelly, Kate Lord-Brennan, Kerry Sharpe, Tanya Humbles, Marlene Hendy, Kevin Cartledge, Andrea Chambers, Alistair Ramsay, Christine Wheeler, Shirley Corlett, Richard Furner and Andrew Hardy.