Jersey food standard for healthier school dinners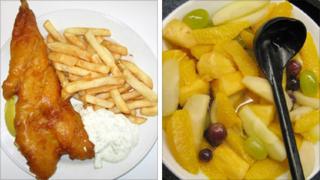 Healthier school meals are to be offered to secondary school pupils in Jersey.
It is part of new standards for school food which are being introduced by the States Education Department.
These will include replacing deep fried foods, sweets and crisps with healthier options.
Education director Mario Lundy said there were links between diet, learning and behaviour and sensible choices about food was a part of the equation.
He said eating healthier school dinners would give children in Jersey the best chance to fulfil their potential.
The Jersey School Food Standards will ensure the quality of food served in all island schools reflects the principles of a healthy, balanced diet and will be phased in over a three-year period in consultation with students.
Medical Officer of Health, Dr Rosemary Geller said: "Providing healthy food in schools is vital if we are to be an island that prioritises our children's health.
"Giving students the opportunity to chose freshly prepared, nutritious and balanced school meals will hopefully foster an enjoyment of healthy food that will encourage young people to continue to eat in the same way throughout their lives."