Call for different plan for Jersey's recovery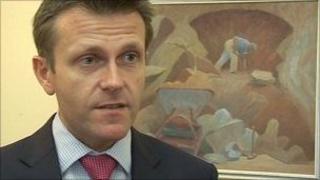 Deputy Geoff Southern is calling for a "different approach" to government finances.
Jersey's Council of Ministers want to cut services and spending to save £50m over the next three years.
Deputy Southern wants the States to consider business tax rises, using interest from the rainy day fund and raising funds on the money markets.
But the Council of Ministers say such measures will undermine a strategy for dealing with Jersey's finances.
Treasury Minister, Senator Philip Ozouf said Deputy Southern's plan would just put off the difficult decisions.
'Better and stronger'
He said: "We have emerged from the economic downturn in a strong position but we have a deficit and we need to tackle that.
"We can tackle that as a responsible government, we can trim spending without compromising front-line services.
"Yes there will be cuts but the States can become more efficient and we can close this deficit within three years and all be in a better and stronger position.
"What Deputy Southern is proposing is putting off these decisions, moreover incurring debt which would be damaging for us in the longer term."
Deputy Southern, chairman of the Health, Social Security and Housing Scrutiny panel says front-line services are already losing out.
He said: "We are already cutting front-line services, physiotherapy services, education services being cut now.
"Police numbers being cut now. Customs officers being cut now and that is with 2% changes and we're talking about £50m or 10% changes."
The States are to debate plans to bring the budget back into balance.