Jersey airport runway reopens after snow cleared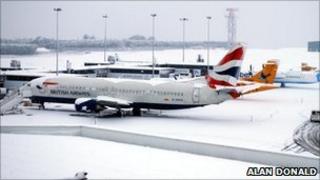 The runway at Jersey airport has reopened after being closed by snow and ice for a day-and-a-half.
The airport has warned passengers that flight delays and cancellations of some services during the day are likely and asked people to contact their airlines.
All schools in Jersey also opened as normal earlier after being closed because of the snow and ice.
The school bus service is running as normal and children will be picked up this afternoon.
Jersey Airport crews have been working on clearing the runway since the early hours of the morning.
Alan Donald, from the airport, told BBC Jersey delays were likely throughout the day.
He said: "We do have just a number of aircraft in the island at the moment, we have Flybe, British Airways and Aurigny flights that have been here since Tuesday.
"Delays are likely and already we have had a few cancellations on early morning services, especially to Gatwick."