Thousands sign petition against Jersey GST rise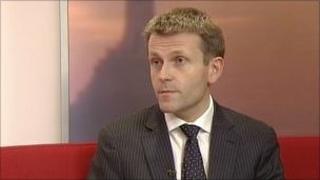 More than 9,000 people in Jersey have signed a petition against an increase in the goods and services tax (GST).
The petition against the sales tax increase also calls for the dismissal of the treasury minister, Senator Philip Ozouf.
The States agreed to put GST up from 3% to 5% from June as part of plans to improve public finances.
The petition has been organised by the Jersey Democratic Alliance and the pressure group Time for Change.
'Stable Economy'
Ted Vibert, of the island's only political party, the Jersey Democratic Alliance (JDA), said it showed there was great anger about the increase.
He said he expected more than 10,000 people to have signed it by the end of the week.
Mr Vibert said: "The reason why we are asking for his dismissal is that he told fibs to the people of Jersey.
"He said categorically [he would] not put up GST in the event of a recession. He made that categoric statement to the States and he made it before the election.
"No minister can be in office who can actually handle the truth that carelessly."
When criticised at an earlier protest against the GST rise, Senator Ozouf said he was standing by plans to ensure a "stable economy".
"I'm not aiming to be popular, I am aiming to be regarded as being responsible. I am the custodian of the public finances," he said.