The former Jersey Odeon cinema keeps listed status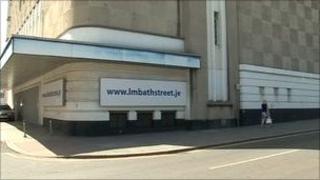 The former Odeon cinema in St Helier will remain a listed building after the planning minister decided to keep its status in place.
The owner of the building, Le Masurier, wanted to replace it with shops and flats.
Jersey planning minister Senator Freddie Cohen said the cinema deserves a chance to survive.
The building was bought by Le Masurier with the intention of redeveloping the area around the cinema.
Critical to investment
The company said its proposals would have seen £40m investment, but it has now withdrawn the redevelopment plans.
The building will remain empty, but the planning minister said a design of exceptional architectural quality could succeed, but only after sufficient consideration has been given to alternative uses for the Odeon building.
Brian McCarthy, managing director of Le Masurier, said the de-listing of the Odeon was critical to their investment.
He said: "Behind our investment we needed to see the Odeon de-listed or demolished. We are a commercial entity at the end of the day and we are looking for a commercial return on our investment.
"We sensitively and carefully thought out sacrificing a level of return from the investment by creating public realm improvements."
Mr McCarthy said there were no plans to sell the building for the moment.