Jersey expects protesters at whaling commission meeting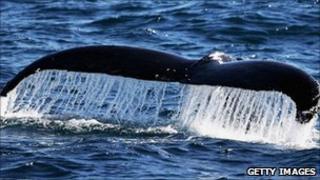 Protesters are expected to demonstrate outside an international conference on whaling when it is held in Jersey in the summer.
The International Whaling Commission is scheduled to meet at the Hotel de France in St Helier in July.
Local environmental campaigner Mark Forskitt said he supports a ban on whaling.
Mr Forskitt said: "I will make my views known that's for sure. I'm fairly sure there will be demonstration protests."
He added that he expected any protests to be "peaceful, lawful and well behaved".
The commission will be in Jersey between Sunday 3 July and Friday 15 July with the 63rd annual commission meeting take place between 11 July and 14 July.