St Helier Marina's longitude markers set for repair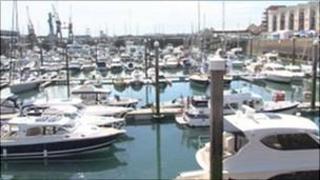 The longitude and latitude markers on the walls of St Helier Marina are to be taken down and cleaned.
The letters and numbers are made of steel, measure 1.5m and weigh 40kg each.
The weather has oxidized them and Jersey Marinas will take them down to be refurbished.
It is the first time the markers have been removed since they were put up on the harbour walls in 1997. They will return in time for the boating season.
Transport and Technical Services will carry out the work to prevent further deterioration.
Myra Shacklady, commercial director for Jersey Marinas, said the markers will be back in eight weeks "in plenty of time" for the boating season.
She said: "We know they have become a useful symbol which some mariners even use as a marker to help guide their boats into their berths."