Jersey dog owners warned about persistent barking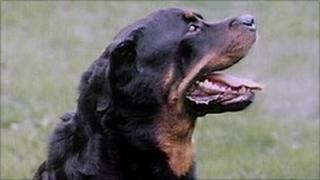 Dog owners are to be warned about their pets barking as they renew their annual dog licenses at Parish halls.
Health protection staff have been working with parishes to raise awareness of the damage barking dogs can cause.
Val Cameron, from Health Protection, said: "The department receives numerous complaints every year."
"Persistent noise nuisance can be very stressful and can eventually lead to ill health," she said.
There is online guidance called "Constant barking can be avoided".
It sets out simple steps to help dog owners prevent their pets from barking and annoying their neighbours.
Val Cameron said: "In the majority of cases, responsible dog owners take the necessary measures to stop it, although occasionally we have no alternative than to serve a nuisance notice to resolve the problem."
Each of the 12 parishes issue dog licenses to owners every year and charge a fee of £5.
The parish halls provide clear details about the responsibilities of dog ownership in Jersey which includes how to keep their pets under control.