Fire service converts chip pan van into command unit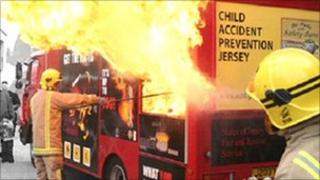 Staff at Jersey Fire and Rescue service have made a mobile command unit out of an old chip pan demonstration van.
In the process they have saved the department almost £300,000.
The service decided they needed better support for large incidents following fires at Broadlands and Val de la Mare.
They took a van previously used for demonstrating the dangers of chip pan fires and turned it into a fully-equipped mobile unit that can support staff at major emergencies.
The Chief Fire Officer Mark James said he agreed to take up Station Manager Mike Baudains' idea to recycle the van as it was not getting much use because of changes in the way community safety is taught.
The van was stripped out and re-equipped as a mobile operations room.
Staff worked weekends and evenings on the van conversion project, and it was completed on time and within budget.
Mr James said: "The unit represents good value for money and we can now run emergencies jointly with other agencies, with the right support to help us work effectively and safely."