Five new buses start on two Jersey bus routes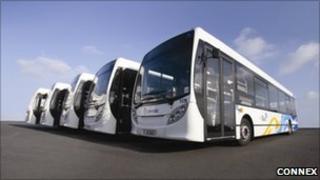 Five new buses will begin on two Jersey bus routes later.
The Enviro 200 buses will be used on route one to Gorey and route 15 to the airport.
They are licensed to carry 61 passengers, have more leg room, wheelchair access and luggage racks.
Eric Le Roux, Connex's Managing Director, said: "The new buses will provide increased comfort and capacity on two of the most popular routes."
They can be easily distinguished as they are white, blue and gold.
Mr Le Roux added: "The Enviro 200 buses comply with the European Union EEV legislation meaning they are environmentally enhanced vehicles, which ensures the lowest level of carbon emissions."
The first use of the new buses will be on the route 15 departure to the airport from Liberation Station at 1125 GMT.