First Jersey garden match making pairing made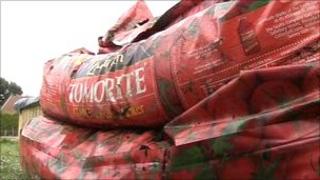 A new scheme has been launched in Jersey to help elderly or bereaved people who unable to care for their gardens.
The aim is to pair people unable to care for their gardens with keen and experienced gardeners who have the ability, but no land to look after.
The first pairing under the new scheme has now been made.
It means that elderly people get to keep their gardens clear and gardeners have somewhere to grow vegetables.
Jersey Horticultural department secretary, Pam Laurens, said many elderly people who had been keen gardeners were sad to see weeds growing in their patch.
She said: "It is something we've been thinking about for a long time, last year I looked on the internet and found one scheme.
"I thought I could look at this and see what we can do.
"I was working on it and then out of the blue this lady, rang me and said her husband had passed away.
"She had this nice back garden that was his pride and joy but she couldn't cope with it."
This spurred Ms Laurens into action and she found a man on an allotment waiting list to pair with the woman.
The pair, who both members of the Jersey Agricultural and Horticultural Society, then met to see if they could work together.
The gardener had been a grower in the past and was eager to eat and grow his own vegetables again.