BBC Radio Jersey: Stand Up for Comic Relief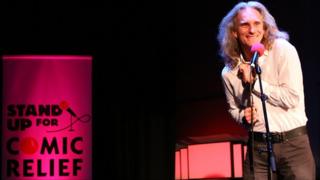 Can you imagine anything more terrifying than standing on stage trying to make people laugh?
Well that is the challenge our own fearless afternoon show presenter, Chris Stone, has taken on - and he wants your support.
For this year's Red Nose Day appeal he will be raising money - and hopefully a few laughs.
Chris will be doing this by learning the ropes, writing a routine, then performing it on stage in front of a crowd as part of Stand Up for Comic Relief.
Chris said: "Sitting behind a microphone in a studio it is easy to talk because you don't have people looking at you.
"But how to make people laugh when you can see the whites of their eyes is a scary prospect.
"I'll also be within throwing range of vegetables."
As part of his training ahead of performing five minutes of live stand-up comedy at the Jersey Arts Centre, Chris had a masterclass at the BBC Radio Theatre in London.
At the event Chris had to perform one minute of his routine in front of more than 40 other local radio presenters and a panel of top comedians.
They included Emma Freud who said: "I applaud every one of you."
And specifically of Chris she said: "It was lovely, felt at home, you had a total connection with the audience."
Jo Brand told Chris Stone he had "good hair that needs back lighting" and described him as a cross between Michael Bolton and Tommy Cooper.
People will be able to watch Chris perform his stand up routine at Cafe Jac in the Jersey Arts Centre on Red Nose Day on 18 March 2011 where his BBC Radio Jersey afternoon show will be broadcast between 1315GMT and 1600GMT.
And support Chris Stone's stand-up challenge by making a donation to Comic Relief on the Red Nose Day website.
And to prepare you for the big day, the first thing Chris said on stage in London was: "99% of my material has been recycled."